Do you know where Kiribati is? Most of us didn't before we heard about stranded seafarers in Hamburg, Germany, who are from the island republic along the equator.

Being stranded in a metropolis of millions of people sounds a little strange at first, but these seafarers earn their living through shipping. When the corona pandemic began, they were no longer allowed to leave their ship for safety reasons. After nine months on board their ship, they were finally allowed to step foot on land. But instead of being flown home, Kiribati refused their entry due to the pandemic, and they ended up stranded in Hamburg.
On March 10, 2021, the USFDA announced that they would begin to enforce the new eCTD validation checks on September 15, 2021. From then on, the USFDA could start rejecting submissions that do not conform with the Technical Rejection Criteria (TRC) formulated in the new eCTD validation criteria (v3.9) with error codes 1734, 1735, 1736, and 1789 for study data. In addition, the eCTD validation criteria for both CBER and CDER are starting to differ significantly from each other.
Posted on February 15, 2021
Finger on the pulse: LORENZ brings innovation to the Regulatory Affairs world
The continuous technical advances in the digital world also bring new challenges. Efficient data and process management and the integration of process steps are becoming ever more complex. Over the past three decades, LORENZ has continuously taken the latest technical advances and trends and applied them to the specialized world of regulatory affairs.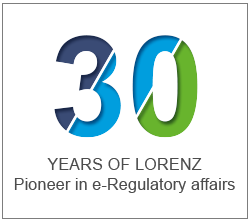 Posted on January 18, 2021
A passion for learning: part of the LORENZ DNA
In 2008, our president Wolfgang Witzel was appointed visiting lecturer at the University of Bonn, working with the German Society for Regulatory Affairs (DGRA) to create a master's degree program in Regulatory Affairs. This graduate-level course draws lecturers from institutions, government agencies, pharmaceutical companies and consulting firms. To this day, Witzel remains passionate about the program and still heads a course module, passing on his know-how to a new generation of regulatory affairs experts.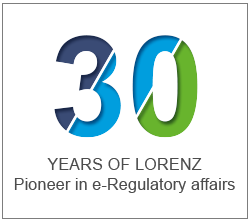 Posted on December 16, 2020
We wish all of our customers and partners a very Happy New Year!

The year 2020 was full of changes and challenges, but it also created many new opportunities. The pandemic changed the way we work at LORENZ, yet also proved how quickly we could adapt to the situation. As this eventful year comes to an end, take a journey with us to review all that happened at LORENZ.

Posted on December 11, 2020
LORENZ customers at the forefront of e-submission creation
The release of the pilot project of LORENZ docuBridge in 2000 signalled the start of a whole new era in high-volume, high-performance submission creation and management and the term "submission management system" was introduced. The number of submissions to individual authorities soon skyrocketed into the thousands.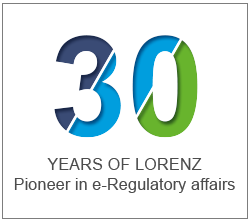 Posted on November 17, 2020
LORENZ is the vendor of choice for agencies and industry alike!
The implementation of electronic submissions in more and more regions also means that keeping an overview of all regional requirements is becoming more and more difficult.

In response to this, LORENZ developed the eValidator to help both industry and agencies follow the rules more easily, and to speed up the overall process. This solution was first introduced in 2006 to conduct automated checks to ensure that a submission technically complies with an agency's specified format(s). This both reduced the number of rejected submissions and sped up the processing of marketing authorizations.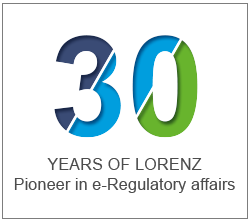 Posted on October 30, 2020
The October releases of docuBridge, drugTrack and eValidator are available!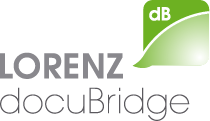 What's new in docuBridge? A range of improvements have been made and existing features optimized. Our webAccess module, the web-based version of docuBridge, has been enhanced and now offers Document Life Cycle Management and the new Pool Manager. Speaking of the Pool Manager: It now allows you to download folders in ZIP format, saving you time. What's more, you can also now upload and download single files. Our TOC Editor has been improved, making navigation in the TOC outline a lot easier. In addition to these changes, you can now start using the new South Korean M1 eCTD v1.0 specification, the new EU VNeeS v2.7 specification, and the updated Jordan M1 eCTD v1.1 specification. Click here to read more about these highlights: What's new in docuBridge 20.2?
© Copyright LORENZ Life Sciences Group.
All rights reserved.