It's all about endurance
Posted on November 19, 2021
News from the LORENZ Charitable Foundation
Five years of preparation, nomination for Tokyo received! He competed in three races: time trial, road race and team relay.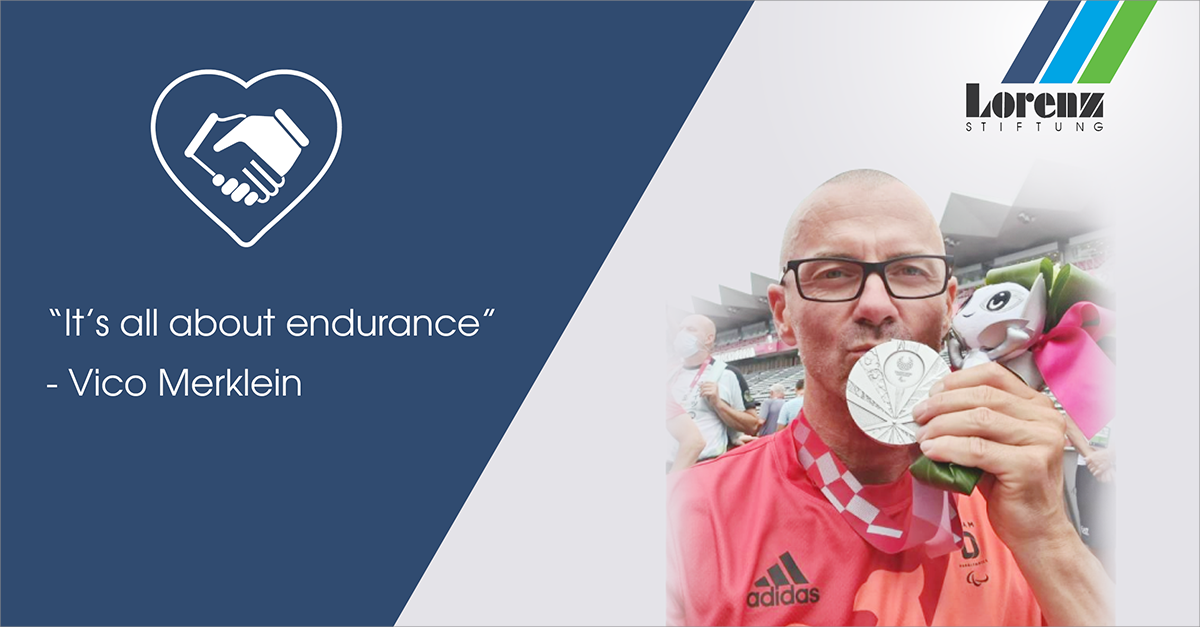 Vico Merklein has been able to expand his Paralympic collection with a silver medal in the time trial. After coming fourth in London in 2012 and third in Rio de Janeiro in 2016, Merklein finished second place in the time trial in the Tokyo 2020 Paralympic Games. But he wasn't completely satisfied, especially after being just 1.8 seconds behind Austrian Walter Ablinger after 32 kilometers. "Of course you can always ride better, but we'll do that in Paris," Merklein said with a wink after he had managed to fight his way from fourth place to second place in the last of three laps. "For me, it's all about endurance. It doesn't do me any good if I win the first round." He also didn't want to know any intermediate results. "It doesn't do me any good if people make me nervous. I need to focus on pedaling. I know what I have to do."
The next day, Vico Merklein wanted to confirm his title that he had managed to get in Rio in the tough 79.2 km road race and go for gold again. But, unfortunately, the race ended in bitter disappointment. On the penultimate of seven laps, the 44-year-old, who as winner of Rio 2016 had started the race as defending champion, was forced to end the race prematurely. The reason was technical problems with the gearshift, robbing him of any chance of winning on the demanding course of the former Formula 1 circuit at Fuji.
Up until that moment, Merklein was part of a group of four racers who were neck and neck, and he felt physically at his best. But on the fifth lap due to the defect, he had to let his fellow racers go on without him, which ended with Russian Ruslan Kuznetsov prevailing over Swiss Frei.
On Thursday, he competed in the team relay together with his teammate Bernd Jeffré and Annika Zeyen.
After the technical problems on the previous day, a great deal of motivation was required to finish on the podium. But, unfortunately, the team finished in fourth place.
What great role models these fantastic athletes are! Five years of preparation, intensive daily training, the "red lines" constantly crossed until exhaustion, pain not accepted, and everything invested into one, big goal…
"I don't train every day to come second," Vico said, but he was of course still happy about his silver medal in the time trial. In the road race, the big goal was gold. The final outcome of the race is not what an athlete wishes for. However, in hindsight, it will surely prove to be additional motivation for the coming tasks. But, for now, the best thing to say after the events in Tokyo to help boost physical and mental strength is: "'Only' three years until Paris!"
Personal afterthought from Heinz-Jürgen Lorenz: "Vico has given me a challenge: If I accompany him to the next Paralympics in person, he's going to compete until he's 60. Well, I'd be 100 by then, but I'll try my best… :-)"
Click here for more information about Vico Merklein