LORENZ Connect – 20 live presentations and many valuable insights at our first online conference
Posted on September 21, 2020
LORENZ Connect, our first online conference, with two half−days of presentations was a huge success. Instead of our on−site conferences userBridge and LORENZlink with presenters on the stage, this year we had 20 speakers from all over the world holding their presentations about various topics regarding the regulatory affairs market live on air.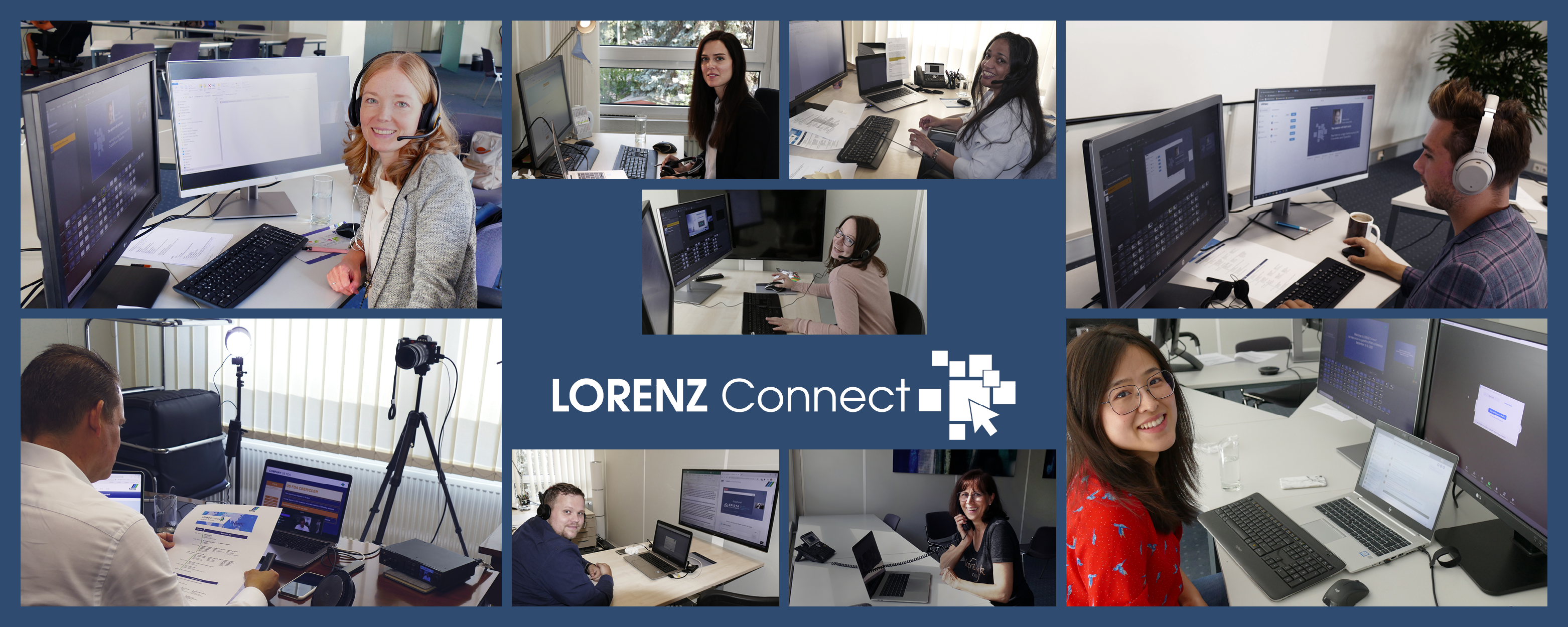 After having registered for the event, LORENZ customers and partners could log in via the LORENZ website and participate in the sessions, asking questions to the speakers via a chat window.

On September 15 at 02:00 PM CEST, our CEO Raoul−A. Lorenz started with the first live session, highlighting that LORENZ Connect is also a chance to reach many more people than the on−site conferences normally do. In his presentation he also gave an update on LORENZ's agency projects and new features of LORENZ's solutions, and he highlighted the importance of simplification in many different areas in the RA world for LORENZ in the future.

After the Keynote, a session on the traits that top−performing companies exhibit from the Gens & Associates World Class RIM benchmarks followed. After that we offered some streams simultaneously and the audience could choose between several exciting and interesting sessions. Presentations included information on electronic submissions in different regions as well as an introduction on how to get started with robotics and AI, and how to use modern rendering technology to creating compliant submission−ready PDFs. The last part of the first day was led by Dr. Andreas Franken from the Federal Association of Drug Manufacturers (BAH) who talked about how AI can help to manage regulatory data. Each presentation was followed by a Q&A session. Participants could also check out recordings of the live sessions afterward, meaning that they didn't have to miss a single presentation.

The second day was started by Klavs Esbjerg of Epista Life Science who informed participants about how they can reach their full potential of digitalization for their time-consuming, quality−associated tasks. This was followed by Remco Munnik of Iperion Life Sciences who presented the different initiatives and provided an update on the current status of IDMP implementation in Europe. After that, there were again two sets of three simultaneous sessions where viewers could decide which session was the most relevant to them. To name examples, presentations highlighted new features in LORENZ docuBridge and drugTrack, the interpretation of guidelines and regulatory MA pathways in the EU. After those sessions had finished, Dr. Joseph Mikhael from Health Canada presented updates regarding the agency's initiatives. The conference was then closed with a presentation by Dr. med. Klaus Menges about implementation guides for eCTD v4.0.

We hope you enjoyed LORENZ Connect as much we did, and that you learned a lot, too! This was our first ever online conference and we were completely overwhelmed by the number of participants and the positive feedback. Did you miss LORENZ Connect? We recommend registering for a LORENZ ID and saying "yes" to the email notifications so that you don't miss any updates on future LORENZ events!