Electronic submissions in the EAEU – publishing module available for interested LORENZ customers
Posted on February 13, 2020
LORENZ has implemented a publishing module for EAEU submissions in docuBridge based on the EECB No. 79 specifications and the R.022 schema. Interested customers can connect to LORENZ Cloud for an early glimpse on how to publish EAEU submissions. Please contact your Account Manager for further information. The publishing module will be continually updated to reflect any further specification changes. The EAEU submission publishing will soon be commercially available as a normal docuBridge publishing module.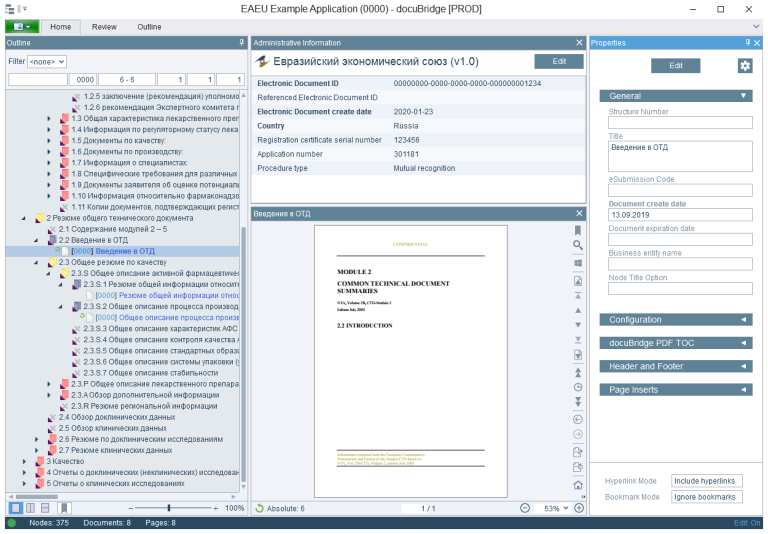 EAEU publishing with LORENZ docuBridge
In 2009 the Russian state program "Pharma 2020" was introduced to increase the local manufacturing of medicinal products in Russia, and to raise quality levels to be in line with GMP. Several other EAEU member states have also adopted similar programs. These have made localization increasingly important.
The Committee of the Eurasian Economic Union is currently developing their own standards for EAEU electronic submissions. Although, adapting ICH's CTD structure, the electronic format is independent and distinct from ICH's eCTD. Nevertheless, the term EAEU eCTD is often used. The Board and the Council of the Eurasian Economic Union have published a range of decisions that affect the electronic submission of drug applications. These include:
No. 78:
Deals with the content and structure of a submission. These differ from a conventional eCTD and will have to be restructured in existing applications to meet the current requirements.
No. 79:
Deals with the technical compliance of the electronic submission. Additional XML files need to be provided for drug applications.
Timelines
Today – 31 Dec 2020:


MRP

/

DCP

may be used for submission in accordance with EAEU legislation or a national procedure of each member country.
Starting in 2021:
MRP / DCP becomes mandatory for new registrations of a medicinal drug product in EAEU member states. No new national procedures are permitted after this date.
Until 31 Dec 2025:
Existing national registrations may only be used for renewals or variations.
Existing national medicinal product authorizations will need to be revised to become compliant with the EAEU dossier requirements until end of 2025.
Starting in 2026:
Follow-up submissions in the EAEU electronic format become mandatory.
All CTD modules must be translated into Russian.
Documents regarding Lifecycle Management are expected to follow soon.
To be prepared, check the documents listed above and keep yourself up to date on upcoming changes.
It is advisable to submit a baseline submission of your existing dossier in electronic form.
It is necessary to make sure your document quality matches the requirements exactly. For example, PDFs need to be

OCR

processed.
If you are interested in an early glimpse of the publishing module for EAEU submissions in docuBridge, please contact your Account Manager or click here.
© Copyright LORENZ Life Sciences Group.
All rights reserved.