LORENZ docuBridge FIVE Review Package: See What The Regulators See!
Frankfurt/Main, October 28, 2019 // LORENZ is proud to announce that it will be launching a new pre-configured LORENZ docuBridge FIVE package, limited to reviewing functionality and applicable for all regions currently accepting eCTD. The review package is easily upgradeable to a full Submission Management Solution and/or end-to-end RIM solution for those customers looking to expand capabilities.
It comes with three immediate benefits: Visibility, Collaboration, and Peace of Mind.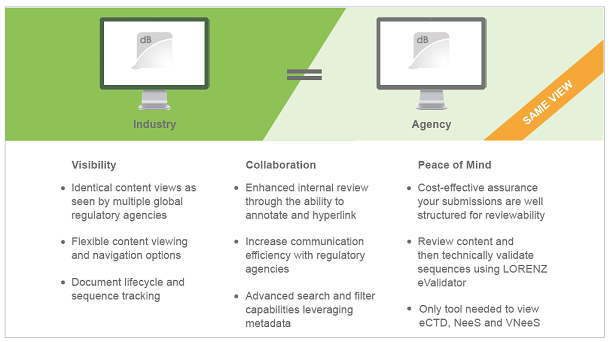 The solution is based on LORENZ's collaboration with a myriad of global regulatory agencies and is an affordable option for reviewing submissions for any company submitting to USFDA, Health Canada, and many other global regulatory agencies. As a reminder, FDA's CDER and CBER programs will use LORENZ eValidator and docuBridge to validate and review incoming and legacy eCTD submissions starting in early 2020, and the CDE of the Chinese NMPA will also implement both products as their eCTD Data Management System soon.
"The docuBridge FIVE review package offers companies a cost-effective and simplified option to review submissions easily in an increasingly complex regulatory environment," says Hilary Hafeken, Regulatory Solutions Consultant at LORENZ and previously Director of Regulatory Operations with over 20 years of experience.
Please contact LORENZ for more information on this offering.
About LORENZ
LORENZ Life Sciences Group (www.lorenz.cc ) has been developing and marketing software solutions for the Life Sciences market since 1989. LORENZ has an array of Regulatory Information Management solutions geared towards industry, health authorities and academia that enable compliance enforcement globally. LORENZ's tried and tested portfolio offers Product Registration/IDMP, Submission Assembly, Validation and Management, Publishing/eCTD, Regulatory Planning and Tracking products and related services. Interoperability between LORENZ products and third party solutions, as well as the ability to automate processes, allow LORENZ customers to enhance operational efficiencies. With over 1050 paid installations in 38 countries, LORENZ has a strong worldwide customer base.
© Copyright LORENZ Life Sciences Group.
All rights reserved.