LORENZ and ERIS co-host successful eCTD workshop in Beijing
Frankfurt/Main and Beijing, June 12, 2019 // LORENZ and ERIS recently co-hosted the successful "2019 China eCTD Management and Application Workshop" in Beijing. The event was designed to assist pharmaceutical companies in structuring their submission management processes to meet China's upcoming eCTD requirements. Participants received comprehensive training in the relevant eCTD submission management regulations and expected practices for the Chinese market.
"We were extremely proud to have experts from the eCTD project team at CDE, NMPA on hand to meet our participants and to share the latest progress on the Chinese eCTD projects, including the technical specifications and verification standards," says Jeremy Yi, CEO of ERIS, "and we also covered eCTD basics and current global trends."
In addition to health authority participants, a range of invited industry representatives shared their valuable practical experiences in creating submission-ready documents and compiling eCTD submissions, as well as their insights into creating the necessary processes and teams, the use of related software, and many other aspects.
Experienced trainers from both China and Germany took workshop participants through the entire submission process including compiling, reviewing, and validating an eCTD submission, as well as handling the lifecycle management, all demonstrated while using the LORENZ docuBridge FIVE solution. This is the software that the CDE has chosen for their own eCTD validation, review and management.
"It was gratifying to see how well all participants interacted with our eCTD experts," says Frank Schroer, Senior Trainer at LORENZ, "and we believe that thanks to these two days of training, the participating companies are now much better prepared to meet the eCTD submission requirements in China."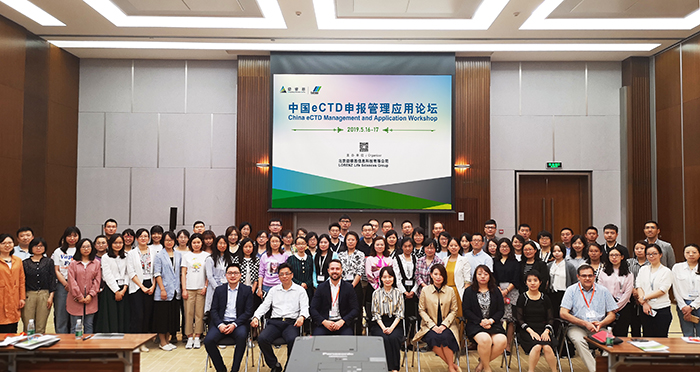 The CDE issued the Chinese eCTD specification and validation criteria draft and related documents for public comments on March 1, 2019 (click here). In addition, the NMPA published the Chinese M1 requirements and a translated version of the CTD on April 17, 2019 (click here). Together, these mark an important milestone in China´s eCTD project, kicking off the final countdown to the implementation of eCTD submissions in China.
According to the experts at the workshop, the Chinese eCTD specifications and verification standards have now been closed for comments. The eCTD submission guidelines and implementation announcements are currently being drafted and will soon be ready for public comments.
From a corporate perspective, introducing eCTD submissions is a massive undertaking; much more than just a short-term task. It means setting up an eCTD submission management system, including adapting management processes to it, and establishing cooperation between the drug development and drug registration teams, as well as building up and training the eCTD submission management team and understanding the actual eCTD regulations. Each of these aspects will directly impact the efficiency of a company's eCTD submission management, and influence how quickly a drug will be approved for marketing.
"With the help of our experts and trainers, participants have obtained a good understanding of these important interrelationships," notes Fabian Witzel, Corporate Development Manager at LORENZ, "and at the same time, this workshop helped us to gain a better understanding of the needs of the Chinese industry. We are truly proud to be a part of the Chinese eCTD project, supporting both industry players and the agency in taking this important step forward."
About LORENZ
LORENZ Life Sciences Group (www.lorenz.cc) has been developing and marketing software solutions for the Life Sciences market since 1989. As a leading supplier of submission management systems for eCTDs, the solutions of LORENZ are geared towards industry, health authorities and academia that enable compliance enforcement globally. LORENZ' tried and tested solutions specifically cover submission assembly, review, publishing, validation and management. Furthermore, the company's portfolio covers product registration/IDMP, regulatory planning and tracking products, as well as related services.
To date, LORENZ has established eCTD systems for 12 national health authorities, including the US FDA (USA), EDQM (Europe), BfArM (Germany), Health Canada (Canada), TGA (Australia), and the Thai FDA (Thailand). It is currently assisting CDE, NMPA (China) in establishing its eCTD data management system.
About ERIS
ERIS (www.eris-bj.com) focuses on electronic regulatory services. Based on the experience of providing registration regulatory and information services, ERIS is dedicated to providing the clients with the world's most desirable e-regulatory affairs solutions, as well as local installation, configuration, training, regulatory consultation, and post maintenance services, fully meeting clients' needs in eCTD application management.
© Copyright LORENZ Life Sciences Group.
All rights reserved.