Upcoming event: LORENZ userBridge Conference 2019 | 17 Sep 2019
From:
17 Sep 2019
To:
19 Sep 2019
Location:
Athens, Greece
Location
Divani Apollon Palace & Thalasso Hotel
Agiou Nikolaou 10, Vouliagmeni 166 71
Greece
LORENZ userBridge Conference
17-19 September 2019

 

Please use the following booking code to receive a special room rate for the LORENZ conference: 11195




Location:
Divani Apollon Palace & Thalasso Hotel
Agiou Nikolaou 10, Vouliagmeni 166 71, Greece




userBridge offers true "continuing education"

Many experts from the Regulatory Affairs sector are looking forward to sharing their knowledge with you. Presentations and tutorials focused on practical solutions and current challenges for regulatory professionals, like you, will be available.

Please find the presentation topics overview here:

- Health Canada Updates

- Update on eCTDs for China

- Leveraging AMRH Sucess - A Firm Foundation for African Medicines Agency

- Joint Reviews in Africa - The Story of ZAZIBONA

- Making Medicines Regulatory Harmonisation in LMICs Sustainable

- eSubmission Updates in GCC Region and Practical Advice

- Registration of Medicinal Products in Russia and EAEU Member State

- An Update on eCTD/eSubmission in South Africa

- Conversion of CP/MRP/DCP Electronic Dossiers After Brexit

- Rebooting Company Processes - Moving Toward Structured Information Instead of "Electronic Paper"

- Same Day Filing - Potential Challenges and Opportunities

- LORENZ Automator & ADAM at Sandoz

- Cloud or On-Premise - Criteria for an Implementation of LORENZ docuBridge at Schott AG

- Standardization & Specified Standard Usage - Is a Single Standard Valuable?

- The EU Telematics Regulatory Landscape

- What's Next for RIM?

- Five Ways How Structured Product Data Will Change Pharma
Looking for table tutorials as well?

Please click on the agenda image to view the userBridge conference topics and table tutorial highlights.
Alternative Accommodations (click here for the list)
If you prefer to stay at a different hotel, above you'll find a list of alternative accommodations. All hotels on this list are located within 5km of the userBridge conference location.Please note that the demand for hotels in Athens is very high during September, so we recommend booking your room as soon as possible.
Schedule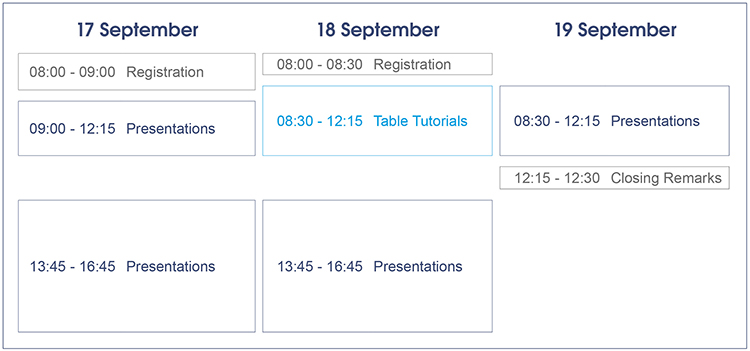 Contact 
+49 69 7899 1150
LEARN. DISCUSS. INTERACT.
The annual LORENZ user conference is one of the most educational events in e-regulatory affairs globally,
bringing together both industry and agency perspectives in one gathering.
LORENZ userBridge is more than just a forum for customers to learn where LORENZ is heading. The conference has become an annual occasion for anyone interested in the digitization of regulatory affairs.
Whether the topic is new regulatory guidelines, pitfalls with change management or the view from regulatory agencies, userBridge is synonymous with education and information exchange on the highest level. The event also offers an ideal setting for doing business. LORENZ partners can make contacts in a relaxed atmosphere, enjoying ample time to discuss skill sets and key success factors.
Previous conferences held at: Frankfurt/Main, Germany (2003) | Munich, Germany (2004) | Vienna, Austria (2005) | Berlin, Germany (2006) | Nice, France (2007) | Lisbon, Portugal (2008) | Warsaw, Poland (2009) | Frankfurt/Main, Germany (2010) | Turin, Italy (2011) | Dublin, Ireland (2012) | Budapest, Hungary (2013) | Milano, Italy (2014) | Vienna, Austria (2015) | Hamburg, Germany (2016) | Nice, France (2017) | Prague, Czech Republic (2018)