Frankfurt/Main, 19 October 2016 // Hamburg, a seafaring city with a long tradition of international trade was the setting for this year's userBridge conference, the global e-regulatory affairs gathering organized by the LORENZ Life Sciences Group, the world's premier supplier of eCTD solutions. Held from 20-22 September, the sold-out userBridge.16 event attracted 172 participants from 21 countries. Interoperability of systems and the importance of converging standards were the hot topics of discussion among leading personalities from both industry and agencies.
In keeping with tradition, userBridge.16 also included a wide selection of small-scale table tutorials. The overall program was also designed to give participants plenty of time to network and exchange their individual experiences in a familiar yet professional atmosphere.
Interoperability and convergence of standards
In his opening keynote speech, Raoul-A. Lorenz, CEO of the LORENZ Life Sciences Group again highlighted the importance of interoperability, i.e. the ability of different IT systems and software applications to communicate and exchange data. He also pleaded for a convergence of standards to increase efficiency for the industry.
In that spirit, the multi-day program of presentations kicked off with an update on IDMP implementation given by Andrew Marr of Marr Consultancy Ltd. Likewise, a major related topic on the first day was the new US Module 1 v.3.3 and the onward path to eCTD 4.0. That transition was the topic of a presentation by LORENZ's Jared Lantzy, who also delivered a related table tutorial. Dr. Andreas Franken from the BAH, Germany's association of pharmaceutical manufacturers spoke about challenging the ICH eCTD 4.0 Implementation Guide from an industry perspective, while Dr. med. Klaus Menges of BfArM, Germany's Federal Institute for Drugs and Medical Devices, gave an agency view of eCTD 4.0 implementation.
In addition to standards, making processes more efficient in themselves was also a topic at userBridge.16. Margaret Hurley of Hurley Consulting Associates Ltd. outlined her thoughts on how to expedite the preparation of drug development documentation for compilations, while PharmaLex GmbH's Timm Pauli spoke on leveraging the possibilities for efficient dossier and submission processes that are already offered today, and others that will be available tomorrow.
Global advance of eCTD
The userBridge conference is a global event, and the roll-out of eCTD in different parts of the world also figured prominently in several presentations. Dr. Athiporn Doomkaew & Sira Janpeng of Thailand's FDA outlined the agency's challenges in moving from paper to eCTD in just three years. Don Lebitsa of Adcock Ingram Limited shared lessons learned from South Africa's experience in eCTD implementation.
Table Tutorials
On the morning of day two, 28 table tutorial sessions gave conference participants the chance to learn about specific topics in smaller-scale face-to-face discussions and demonstrations. Topics covered ranged from specific product-related matters such as LORENZ docuBridge configuration and using LORENZ Automator to dispatch a submission in just one click, on to wider topics such as how to get documents submission-ready, and the new EU Module 1 version 3.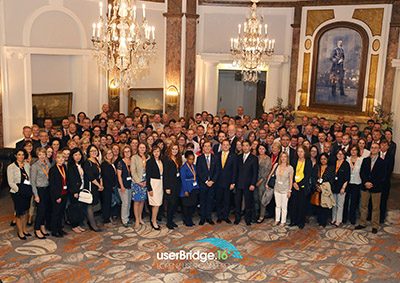 "The quality of presentations and the tutorials at userBridge.16 was outstanding because they really highlighted both the challenges and the solutions offered by interoperability and new standards," notes Raoul-A. Lorenz, CEO of the LORENZ Life Sciences Group, "and once again we are really pleased to receive so much positive feedback from our participants, who value userBridge for the opportunity to keep up-to-date with the latest developments in regulatory affairs."

Agency Day
After the conference, agency regulators once again took the opportunity for an Inter-Agency eSubmission Discussion Group Meeting organized by the German BfArM. 19 representatives of 10 national agencies discussed about interacting projects with EMA and their impact on national health agencies as well as different topics around the usage of eCTD.

About LORENZ Life Sciences Group
LORENZ Life Sciences Group (www.lorenz.cc) has been developing and marketing software solutions for the Life Sciences market since 1989. LORENZ has an array of Regulatory Information Management solutions geared towards industry, health authorities and academia which enable enforcing compliance globally. LORENZ's tried and tested portfolio offers Product Registration/IDMP, Submission Assembly, Validation and Management, Publishing/eCTD, Regulatory Planning and Tracking products and related services. Interoperability between LORENZ products and third party solutions, as well as the ability to automate processes allow LORENZ customers to enhance operational efficiencies. With close to 600 paid installations in over 30 countries and an average customer growth of 10 new customers per month in 2016, LORENZ has a strong worldwide customer base.

http://www.lorenz.cc/corporate/press-releases/press-release.cfm?ID=219